Blind Bookworm Home Page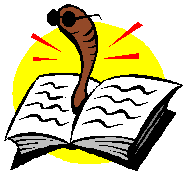 The blind bookworm pictured above is named Milton, which is also the acronym I use for my pet project, Media Integrating Literature and Technology On the Net. MILTON's purpose is to offer resources for visually-impaired readers and digital bookworms.
Dedication
These pages are for everyone who believes technology has the potential to uncover books.
Contents
>From here, you can go directly to my page of Accessible Audiobooks, Etexts and Ebooks
or read notes I have compiled specifically about Accessible Ebook Formats.
There is a separate Latin and Greek Page a>
or read more about Kestrell.
Why not check my blog to find out what the blind bookworm is reading or browse New Etexts at the Online Books Page??
The Blind Bookworm was first uncovered on March 8 2002. Go here to read why.
Page last updated on October 29 2005.