A Classic 1966 Mustang
Below is a picture of a 1966 Ford Mustangs that I owned from October 1997 until it was sold in July 2001. &nbsp &nbsp

This Mustang was was built by Ford Motor at its plant in Metuchen, New Jersey. The car is Silver Blue and has just about all its original parts including the engine, transmission, interior, and other major components. The original buyer owned it for almost 30 years until he died about February 1996. I bought it in October 1996 and sold it in july 2001. It went to a good home and is being well cared for in Long Island, NY.
The car had papers and records going back to the original sales order. The car was located for most of its life in Yonkers NY, just north of New York City. The car papers verified that the astoundingly low 50,000 miles (74,000 kms) shown on the odometer was accurate! It's very rare to find a 35 year old car that has been driven only 50,000 miles. (Cars of this age typically have between 150,000 and 250,000 miles and many have considerable more.)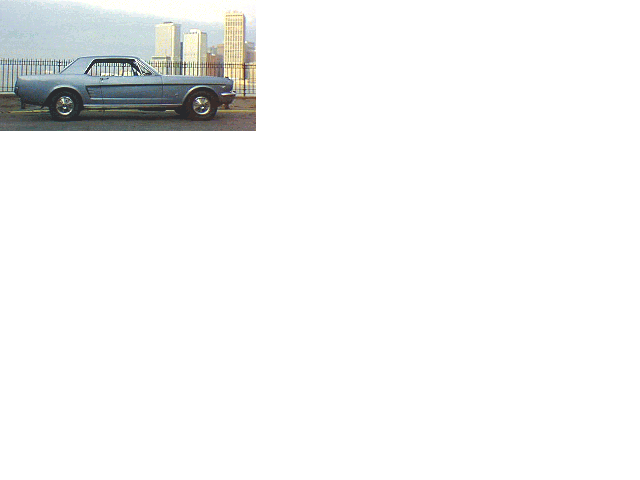 The car has a 289 cubic inch (4.7 liter), 200 horsepower, V8 engine with 2 barrel carburator. It has Cruise-O-Matic (automatic) transmission, push-button AM radio, two tone blue interior, and very rare original bumper protectors (bumperettes). The front protectors have an image of Mustang horseheads while the rear bumper protectors have images of horseshoes.
The interior is also just about all original including the seats, seat belts, headliner, visors, and instrument panel. All numbers match. The car was not quite concours correct in some minor details, but with its great paint and overall originality, it was been shown numerous times at Mustang and other vintage car shows.
For those who like details, the car has manual steering, drum brakes. VIN# 6T07C279XXX. Warranty plate information: Body: 65A (2 door coupe with bucket seats and standard interior); Color: Y (Silver Blue); Trim: 22 (two-tone blue vinyl standard interior); Date: 16G (built 16 July 1966): Axle: 6 (2.80:1 rear axle ratio); Transmission: 6 (3 speed automatic transmission).
---
Send e-mail to rmadison@panix.com

&nbsp&nbsp

---
&copy Richard Madison 2001