Everything You Ever Wanted to Know About...
Vital Statistics
Gay, Jewish, living in Manhattan, loving in Somerville, NJ. I work in publishing. Click here for a larger version of this lovely photo--one of my favorites--taken in 1993 at the Gay Pride Day parade here in New York. My parents and brother came along for a while that day. If you want to see a more recent photo of me, drop me a line at sethbook@panix.com.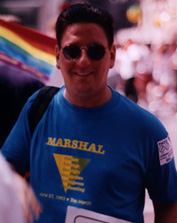 Likes
Movies, books, music, writing. Politics, history, urban planning, mass transit. AbFab, Simpsons, King of the Hill, X Files. All About My Mother, Opposite of Sex, Oscar and Lucinda, Mrs. Dalloway. Walking, dining somewhat expensively, foreign languages, learning. New York, New York, Brooklyn, Queens. Coney Island, Riis Park, Brooklyn Heights, Chinatown. Forthrightness, enthusiasm, honesty, and being out. Cats. Floral ties.
Dislikes
Complaints, self-pity, injustice. Pompous asses, machismo, careerism, aggression. Secrecy, limitations, apathy, ennui. Wall Street, Battery Park City, Howard Beach, Fire Island. Republicans, religious extremism, Governor Pataki, the Mayor. People who don't like New York. Fads. Tuxedos (on me).
Far and Away
Travels have taken me to London, Glasgow, Edinburgh, Swansea, Cardiff, Colchester, Manchester, Winchester, Bath, Paris, Nice, Monaco, Rome, Florence, Milan, Venice, Pisa, Bologna, San Francisco, Seattle, DC, Chicago, Pittsburgh, Philadelphia, Boston, Baltimore, Vancouver, Montreal, Bermuda. Florida, Maine, Virginia, Maryland. Lisbon, Madrid, Barcelona, Sevilla, Cordoba, Toledo, and Zaragoza. In 2005, Israel and Sri Lanka, and in 2007, Berlin, Frankfurt, Sobernheim, Seesbach, and Cologne. And Amsterdam, where my bag was stolen.
Most boring places I've been: San Jose, Darien, CT, and Piscataway, NJ.
Important
Being a good neighbor and friend. Volunteering and vigilance. Doing.
Not Useful
Being greedy. Being "popular." Waiting for "something better" when there's an awful lot of good out there. Waiting for something to happen. Feeling powerless. Keeping silent.
What's Happening Today: 19 March 2008
What's On My iPod Lately: "The Pine Valley Podcast" and "Israelisms.".
What I'm Reading: Mac|Life.
Last Books Read: Anne Frank Remembered: The Story of the Woman Who Helped Hide the Frank Family, by Miep Gies.
Latest Movies Seen: Atonement, Cloverfield, and Vantage Point.
---
[ Contact Me at sethbook at this domain name (Panix.com) | Home | Matthew Shepard Memorial | Diaries | Archives | Links | Web Index ]
---
Copyright (c) 1998-2008, Seth J. Bookey, New York, NY 10021, sethbook@panix.com