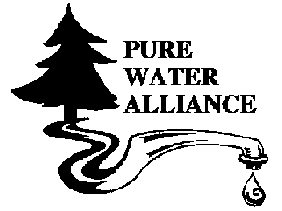 Flash - Hot off the presses
There is a proposed agreement on the New York City Watershed Protection Plan. For a brief analysis, see the article "Watershed Agreement Proposed", from the upcoming New York City Trout Unlimited Newsletter.The first issue of the Pure Water Times is available for your activism pleasure.
---
The Pure Water Alliance is a coalition of environmental, housing, health, and community organizations in the downstate region who have joined together to create a constituency for a sensible water policy which will protect the quality and the affordibility of the downstate water supply. The goal of the Alliance is to support the creation of a comprehensive watershed protection program which will provide clean and affordable water for the New York City Metropolitian region for many years.
PWA was initially started by a number of environmental organizations to educate their membership on the issues involved in the NYC attempt to protect its upstate watersheds. The New York City Department of Environmental Protection was attempting to institute new watershed regulations that better reflected the realities of the pollution problems of the 80s and 90s. As the issues evolved it was clear that a strong downstate constituency was needed if effective regulations were to be implemented. To carry out these goals the Pure Water Alliance has brought together groups who have not traditionally been allies on issues, and has provided a forum for these organizations to work in concert on the water issue. The Alliance now includes 30 groups and is still growing. Click here for a current list of PWA members.
The goals of the Pure Water Alliance are:

Protect the quality and affordability, now and in the future, of the water supply;

Strategic Land Acquisition to Protect Water Supply Sources;

Strategic Investments in Watershed Infrastructure;

Conservation and Preservation of the Aquatic Habitat and Ecosystems within the Watershed;

Adoption of Strong Watershed Protection Regulations by all City, State, and Federal Agencies;

Stringent Enforcement of these Regulations.
If you would like information on the Pure Water Alliance contact either MichaelGreenspan at mgspan@abest.com or Steve Schwartz at smsinc@panix.com

return to Steven Schwartz's home page

This site maintained by Bella Productions