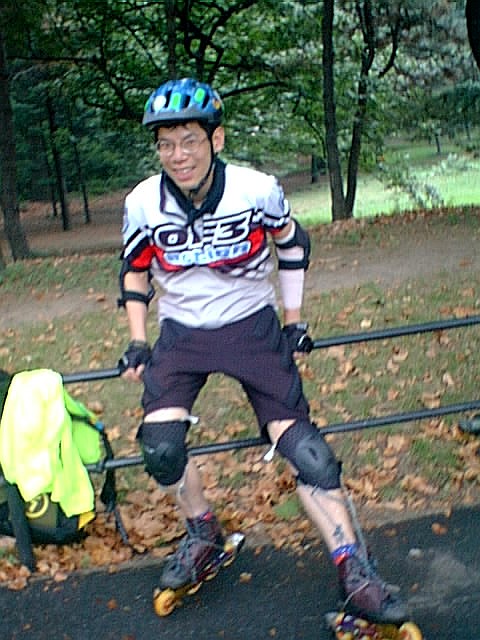 Huyen Tran and his brake leverage devices (from http://roadskater.dynu.com/nyc2001d1/18190060.htm).
Copyright 2001, Blake Lambert (Roadskater.net). All rights reserved.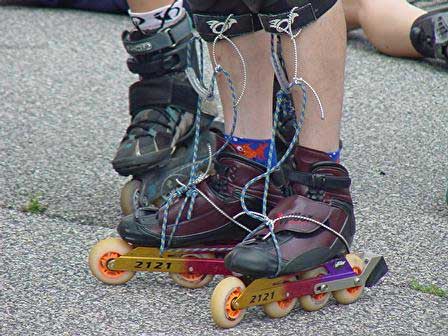 A close-up picture (from http://www.skatedc.org/homepage/pics/philly-4.5wheels.jpg).
Copyright 2001, Dan Smith (?) of the Washington Area Roadskaters (SkateDC.org). All rights reserved.

--------------------------------------------------------------------------------
Posted below, with Huyen Tran's permission, are excerpts from
private e-mail I exchanged with him about his brake leverage device
implementation. He skates on (very) low-profile Miller 2121 extended
4-wheel racing frames in Philadelphia, Pennsylvania, U.S.A.

Uwe Brockmann

--------------------------------------------------------------------------------
From: Huyen Tran
To: Uwe Brockmann, uwe@pobox.com
Date: 2001-05-21

Here's a brief positive initial report:

I built a brake leverage device for my right brake
following your instructions. 
I went on a city skate yesterday to test the unit, mostly on level
ground. Even with the National Skate Patrol directing traffic, there
were a lot of red lights where I needed to stop rapidly. The device
worked very well. I could apply much more power while braking, so my
stops were shorter and my shin muscles didn't get tired. Initially I had
to fumble to find the handle while skating, but soon I could reach for
it without looking. The two half hitches and overhand knot that I used
to tie the upper elastic cord to the pull cord without ring came undone
once, then the pull cord and handle drooped down and I had to stop
skating to retie it. 

Over all, my braking and comfort have improved with one brake leverage
device. When I have the second brake and leverage device, I will try
some steep hills and send you a report. I will also send you further
details on how I adapted your construction technique.
--------------------------------------------------------------------------------
From: Huyen Tran
To: Uwe Brockmann, uwe@pobox.com
Date: 2001-05-22

I was afraid of drilling holes in my frames, so I tied the pull cord to
the front of the frame, about 2 1/2" behind the front-most axle. This
may not be possible on other boot/frame combinations or positions. My
front mount on my boot is bolted to the rear-most of the two
front-mounting-holes on my 2121 frame, so I have the front-most
front-mounting-hole of my frame open and I was able to thread the pull
cord through this hole and attach it here. This is about 3/4" behind
where I would have drilled a hole, so I will lose a little leverage in
comparison to drilling. But it's 7 1/2" in front of the rear boot
mounting hole, so there is probably adequate leverage. The cord
attachment to the frame is also 1/2" higher than it would be with
drilling, I don't know if that makes a significant difference. Whether
or not it's optimal, I get better, more comfortable braking when
compared to braking without a brake leverage device, without holes in
the frames. I don't know if a frame with extra holes changes its skating
characteristics noticeably. Plus I'm not a very good driller...

I wear step-in knee pads, so I attached the upper elastic cords to the
lower velcro strap of the knee pad instead using 1 1/4" wide elastic
Velcro.

Per your suggestion, I did not use metal rings. The elastic cords shift
around on the pull cord, I'm not sure if that's OK or bad yet. I have
not yet decided if I should make a knot (maybe 21 The Harness Loop) on
the pull cord to fix where the elastic cord attaches, or if the set-up
works acceptably without any more tweaking. Any change means a lot of
knot untying/tying so if it works OK I'll probably leave it alone.
--------------------------------------------------------------------------------
From: Huyen Tran
To: Uwe Brockmann, uwe@pobox.com
Date: 2001-05-26

Here are some more construction details.

I bought the pull cord from an Eastern Mountain Sports retail store.

  http://www.shopems.com/webstore/webstore.nsf/(prodidlu)/3MMCORD

"3mm Accessory Cord, a general utility purpose cord, NOT for use in lead
climbing, rappelling or supporting a climber's weight ", $0.20 per foot.
Tensile strength: 594 lb. (270kg); I think this is for a static load,
I'm not sure how much safety margin is needed for braking. They also
sell 2mm cord which may be easier to squeeze through under the boot and
tie knots with, but they didn't show the tensile strength rating.

Can you measure the outer diameter of your pull cord? If it's 2mm and it
has worked for you, I may prefer that.

I also bought the thin elastic cord there.

  http://www.shopems.com/webstore/webstore.nsf/(prodidlu)/61352E

"Shock Cord 3/32 Elastic shock cord for repair of shock-corded tent
poles", $6.00, 3/32 in. diameter, 18 yds. total length.

I'm attaching 1.jpg, 2.jpg, 3.jpg to show how I tied the pull cord to
the front of my frame.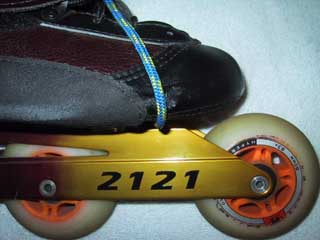 1.jpg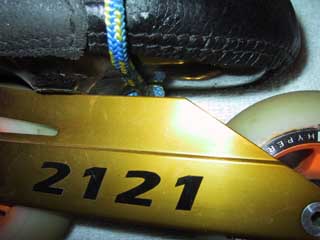 2.jpg



3.jpg



4.jpg shows a potential alternative method to attach the pull cord
without drilling the frame. By looping the pull cord behind the boot and
tying a knot to keep it snug, I may not need to thread it through the
front-most front-mounting-hole of my frame. If this works and the pull
cord looping behind the boot does not get in the way, this variation may
be applicable to many more boot/frame combinations.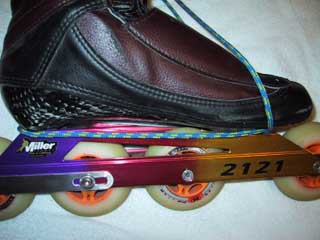 4.jpg



--------------------------------------------------------------------------------
From: Uwe Brockmann, uwe@pobox.com
To: Huyen Tran
Date: 2001-05-28

I have purchased both 2 mm and 3 mm accessory/utility cord in Germany
for use as the load-bearing pull cord. However, I only use the 3 mm cord
because I do not trust the 2 mm cord to be strong enough. I did not see
tensile strength ratings for either cord at the store where I bought it.
I think that 3 mm is about the optimal diameter for the pull cords.

I have bought both 2 mm and 3 mm elastic shock cord in Germany. Both
work fine for keeping the pull cord out of the way when it is not being
used. The 2 mm elastic cord has the advantage of stretching more in this
application while the 3 mm elastic cord has the advantage of being more
durable.

Since I ran out of my German elastic cord I recently purchased 7/64"
(approx. 2.8 mm) elastic shock cord from the local R.E.I. store in
Atlanta, Georgia, U.S.A.:

  http://www.rei.com/cgi-bin/ncommerce3/ProductDisplay?prrfnbr=2153&prmenbr=8000

I have not used the 7/64" elastic cord yet but I expect it to work well.
Your 3/32" (approx. 2.4 mm) shock cord should also work well. R.E.I.
also sells 1/8" (approx. 3.2 mm) shock cord. That cord may be a little
bit too stiff.

Based on my experience with the 2 mm and 3 mm elastic cords I estimate
that the order of desirability for the various elastic cords, from best
to worst, is approximately as follows:

    1. 3/32" (approx. 2.4 mm)
    2. 7/64" (approx. 2.8 mm)
    3. 2 mm
    4. 3 mm
    5. 1/8"  (approx. 3.2 mm)
--------------------------------------------------------------------------------
From: Huyen Tran
To: Uwe Brockmann, uwe@pobox.com
Date: 2002-05-23

The brake leverage devices are great. I have not used both at the same
time yet, after engaging one brake I hesitate to engage the second brake
for fear of losing my balance, it's a mental hurdle I haven't jumped
yet. My stopping distance with one brake and leverage device is much
shorter than with one brake only, and on long downhills I alternate
which side I use.
--------------------------------------------------------------------------------

Uwe Brockmann, uwe@pobox.com, http://www.panix.com/~uwe/brakelev/