Yosemite National Park: Parsons Memorial Lodge Summer Series 2019

The Summer Series is one of the least publicized, most delightful opportunities in Yosemite (second only to the opportunities afforded by nature itself).
in a nutshell
The arts and sciences are featured in talks, discussion, performances, and other activities every weekend for about six weeks, starting early or mid July. What I would call the "core" events usually occur at 2:00pm; these are suitable for the casual visitor who just wants to drop in and be enriched, uplifted, and entertained.

The 2019 schedule is being mailed a little later than usual. You might be interested in getting on the mailing list. Just show up and ask!

You can see the 2019 schedule here. But note that there's a misprint: NPS Ranger Shelton Johnson's performance of "Yosemite through the Eyes of a Buffalo Soldier" is from 2:00pm to 3:30pm, not from 7:00pm to 8:00pm.

I have never been disappointed by the Summer Series; it's always been worth the trip.

Most of the visitors I've talked to at the Summer Series happened to be staying in Tuolumne Meadows for the weekend, so they attended one or two sessions. What I've done, though, is simply to drive from downtown Mariposa, and therefore could attend as many sessions as my calendar permitted.

If you do drive into Tuolumne Meadows, keep in mind that it is summer, and it is the weekend. Yosemite is a madhouse under those conditions. So driving from downtown Mariposa, one should start no later than 8:00am (7:00am is better) to allow for the wait time at the Arch Rock entrance. That gives one enough time to get there a good half hour early; some of the sessions can be quite crowded. Often the only available seating is wooden benches, so some of you may wish to bring a cushion or a towel.

The lodge is a 30 minute walk from either the Lembert Dome parking area or the Tuolumne Meadows Visitor Center. (No wheelchair accessibility.)
Parsons Memorial Lodge
The Parsons Memorial Lodge is named after Edward Taylor Parsons; you can read about it here. It's near Soda Springs in Tuolumne Meadows. (You shouldn't really taste the carbonated water bubbling from Soda Springs, because it's bad for you. I tasted it, and ever since, I occasionally forget a closing parenthesis here and there.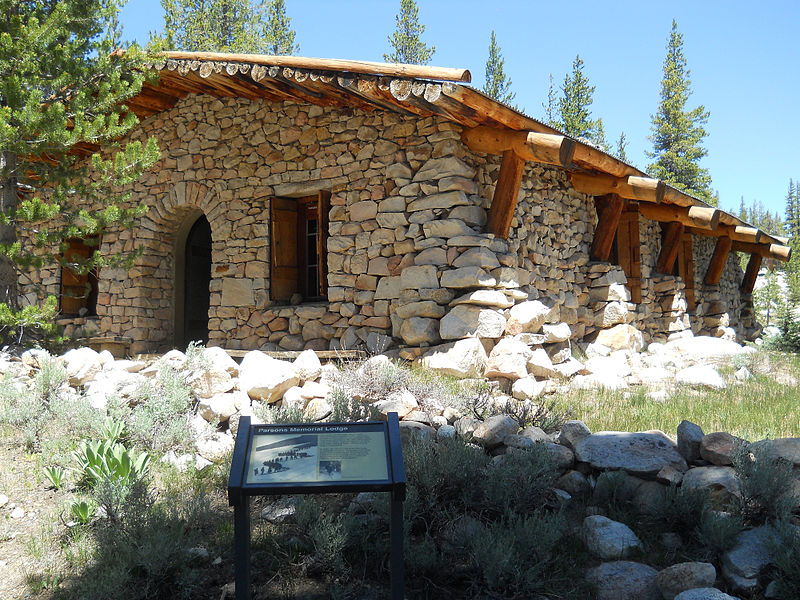 The views expressed on this page are mine, and do not represent the views of any governmental outfit, corporation, nonprofit organization, or extraterrestrial agency.