Tam Ra Ahan Thai (Thai Recipes) ตำราอาหารไทย
© Copyright 1995-2020, Clay Irving <clay@panix.com>, Manhattan Beach, CA USA
Krathiam Chiao (Fried Garlic) กระเทียมเจียว
Recipe from: Real Thai, The Best of Thailand's Regional Cooking by Nancie McDermott
Servings: About 1/4 cup

This plain, easy-to-make condiment is magic when poured over Thai noodle dishes and soups. The oil carries the flavor and the golden garlic bits add a soft, toasty crunch. You can fry just enough for a given recipe or make a larger batch to have handy for sudden culinary inspirations. Making fried garlic perfumes your kitchen wonderfully, and it keeps nicely for 3 to 5 days in the refrigerator in a tightly sealed jar.

¼ cup vegetable oil
2 tablespoons finely chopped garlic

Heat a small skillet over low heat. Add the oil and heat until very hot. Drop a piece of garlic into the oil. If it sizzles immediately, the oil is ready. Add all the garlic to the oil and stir to break up any clumps. It should sizzle and bubble and begin to turn golden. As its lovely perfume reaches you, stir gently, and as soon as half of the garlic is a soft, wheaty color, remove the pan from the heat and let the garlic finish cooking in the warm pan. This entire process shouldn't take more than about 3 minutes.

Let cool to room temperature, transfer to a glass jar with a tight lid, and store in the refrigerator.

Note:
It's easy to burn this, so be careful, The garlic should be finely choppedm but not minced to a mushy state. If the garlic is too moist it is almost sure to burn. To make a larger batch, simply double the amount of oil and garlic.

Clay's Note:
Fried garlic is also available in Asian grocery stores. The commercial Thai fried garlic is usually very flakey, and blends well with many different types of food (I like to sprinkle it on baked potatoes!). The Chinese fried garlic is a little chunkier.

In the picture of Kaeng Jued Wunsen you can see fragrant pieces of Gratiem Jiow in the soup.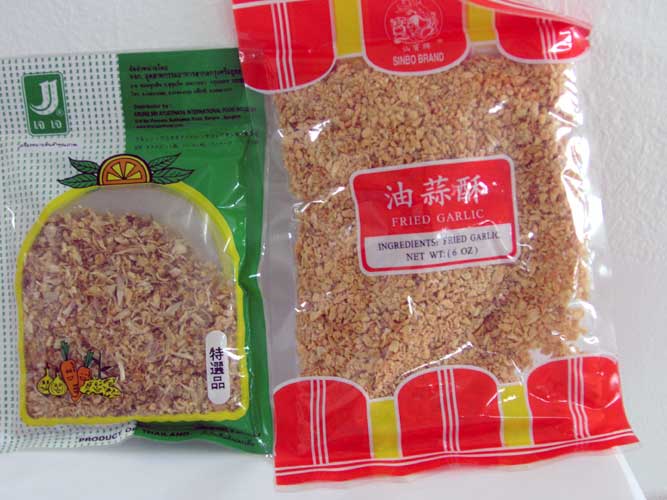 ---
Search for Recipes, Search using Google, or Return to Cookbook Index