Welcome to my Home Page!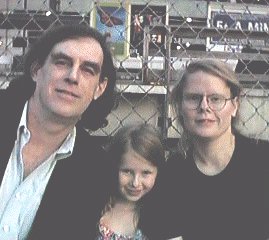 My name is Self Locke
(it's really Selene, but I've always called myself Self).
Here I am with my Ma and Da at the local train station. Da just came back from NY City with a digital camera. Do we look a little weird? That's because he's just learning how to use it and he doesn't know Thing One about Photoshop yet.
I am 6 years old and I want to be an artist when I grow up. My favorite subject in school is reading.

If you find this page, please send me some email!
Here are some of my interests:
I love animals -- I have nearly 150 stuffed ones. Tropical rainforest animals, big cats, reptiles -- you name it, you'll find it on the Net. Even animal pictures that you can use.

Here are some cool animal sites on the Web (my Da and I call it the World Wide Wait):

My favourite animal from the Mystery Critter Crunch Adventure is the Giant Panda.

Movies are a big favourite of mine. Have you seen Babe, a story about a really smart pig? Or try A Little Princess, about a girl who lived in India and loved magical stories. If you have a favourite movie you can find out more about it from The Internet Movie Archive.
Here are some more movie sites:

If you are like me, then music is something you really get a kick out of. Do you have a favourite singer or band? Maybe they are on the Web... you could also have a look at the All Music Guide.
Here are some more music sites:

I'm nuts about R.L. Stine's Goosebumps series, and have read nearly every book. If you don't know about them, you have a real treat in store -- that is, if you like scary stuff.
When I'm not reading -- or goofing around with my Ma -- I like to play computer games like Indiana Jones and the Fate of Atlantis. There's a new Indy game on the way from Lucas Arts -- check it out!
It's here! And pretty cool, but not as good as the Atlantis game by a long shot...
I also like Chip's Challenge, which comes with Win95 -- it's got 150 levels! My Da and I found all the level passwords here --but it's a spoiler, so don't look if you plan to do it the hard way! (Don't worry though -- even with the passwords, it's still really hard!)

Brought to you by:
(with a little help from Da)