Canine John Muir
The John Muir Trail is open to dogs for a bit less than half its length. Sure, you'll miss the most famous scenery, but if you don't like it, complain to the park service not to me.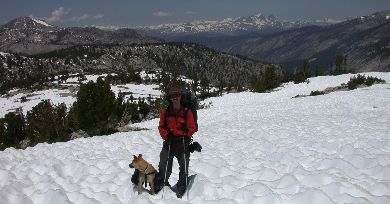 Silver Pass, July 2005
Trail
| | |
| --- | --- |
| 8.8 miles | Rush Creek Trailhead to John Muir Trail junction |
| 70.0 miles | regular John Muir Trail, from Rush Creek Trail to Piute Canyon |
| 15? miles | over Piute pass to North Lake trailhead |
More on the trail and resupply
Conditions
Snow on the passes into June - August. Risk of fall snowstorms starting around October.
Difficult stream crossings, especially during snow melt season (which can last into June or July).
Horses are found here.
More on horses, snow, and stream crossings.
Suggestions for gear and food
More on dog food, dog packs, booties, dog jackets, and sleeping pads for dogs.
---
This page is part of Jim Kingdon's personal pages.