oatmeal cookies
---------------

flour 3 cup
baking soda 1 1/2 tsp
baking powder 1 1/2 tsp
cinnamon 1 3/4 tsp
salt a ceremonial amount

margarine 2 cup (4 sticks)
granulated sugar 1 1/4 cup
brown sugar 1 1/4 cup

large eggs 3
vanilla 2 tsp

oats 4 1/4 cup
grated milk chocolate 8 oz
walnuts 1 1/2 cup
M&Ms 400 g

Overnight: freeze the bar of milk chocolate so it's nice and brittle.

A half hour to two hours in advance: remove the margarine from the refrigerator.

Mix dry ingredients together. Set aside.

Mix margarine and sugars together.

Into that, mix the eggs and vanilla. Then mix in the dry ingredients.

Mix in the oats.

Mix in the grated chocolate. For best results, keep the chocolate bar in the freezer (preferably for several hours) before grating it, or it'll melt in the process.

By now you'll probably want to abandon your mixer and mix in the rest of the ingredients by hand. I've ruined two or three hand mixers by calling them to service above and beyond the call of duty with this very recipe. Your call.

Mix in the walnuts. Break them into pieces as small as your fingers can make them. Or go cheap and buy the walnuts bits instead of halves, if you can find them in the store. Either way works. Don't use a food processor; it grinds them too fine. You want some texture here.

Mix in the M&Ms. Be a sport and pick out the blue ones. Get rid of 'em. Contrary to the latest scientific findings, a little chocolate won't hurt the dawg none.

350 degrees, about 14 minutes. Your mileage may vary.

NOTES:

Salt or no salt? Your choice. Salted butter or unsalted butter? Your choice. I prefer no salt at all in these cookies.

Butter or margarine? Some say that butter tastes better in these cookies. Consider how cows are treated to maximize milk production. If that turns your stomach (as it does mine), go for margarine.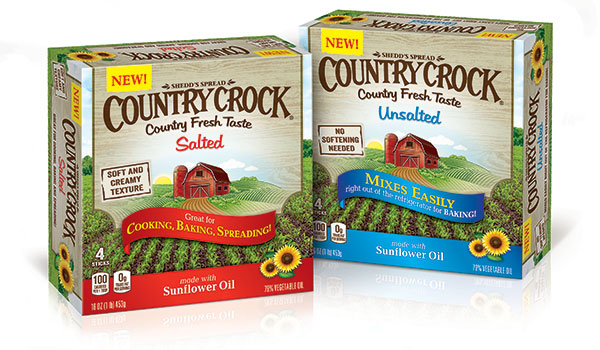 Unsalted margarine can be difficult to find. But if you're willing to go for a margarine that's technically a spread (meaning less than 80% fat), I have found one brand: Country Crock. It can be difficult to find, so shop around. I've found more and more sources drying up. My new secret weapon is my local (small town) grocery store. They'll special order a case of the stuff for me. So if all else fails, try special ordering it at your local store.

When you go to the store, you're looking for something that looks like the product to the right in this picture (the one with the blue, not the red). Don't use the tubs of whipped stuff; use the sticks.

Country Crock, by removing artifical flavors, has upset some people. Check out the wikipedia article for details. "You have ruined waffles", for example. I think butter and margarine are like milk: people don't want the taste to change. They should get a grip and learn to like healthier food.

I found that the cookies taste slightly different, but not particularly worse. I also found that I had to be careful with the baking time. 14 minutes was too little; 15 minutes was too much.

When mixing the butter and sugars, I think that using your fingers is the best way to go.

I like to open the eggs into a separate, very small bowl rather than straight into the dough. That makes it easier to fish out tiny bits of eggshell.

If a bit of eggshell is in the small bowl, you can chase it out by scraping it up the side of the bowl with the side of an ordinary table-style teaspoon.

For the 8 ounces of milk chocolate, just use the 7 ounce Nestle milk chocolate bar.

To grate the (frozen, I hope) chocolate bar, use a miniature food processor. I think I got mine at Target.

For placing the cookies on the cookie sheet, I recommend using a 3 tablespoon ice cream scoop, the kind with a curved blade inside the scoop to release the content easily.