3/19/04 Corte 556 mi cumulative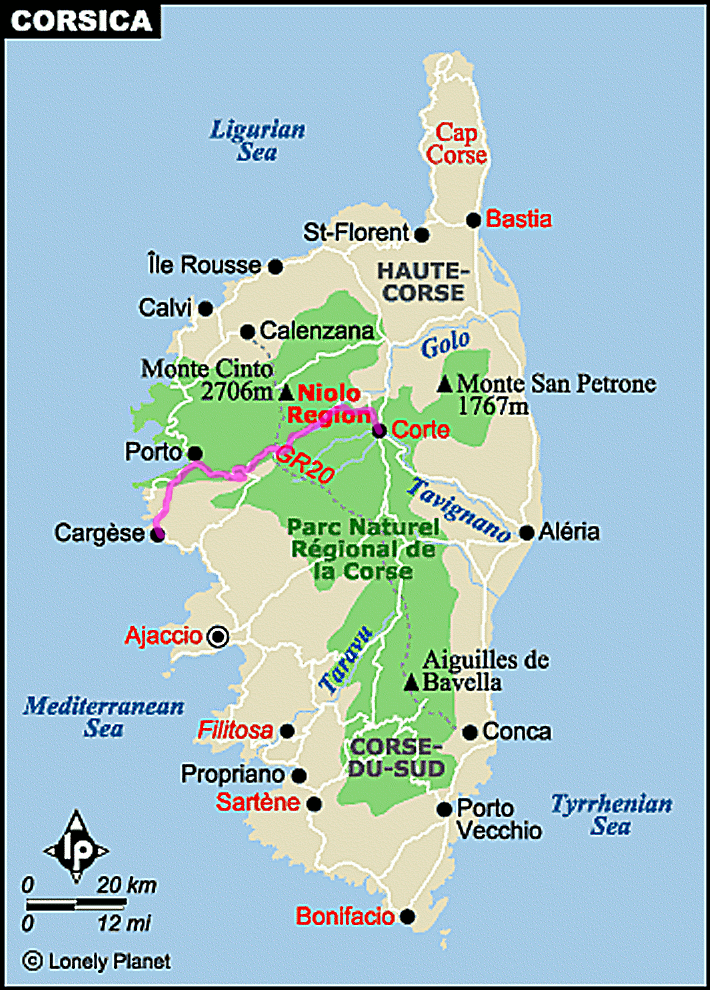 Bought the makings of a picnic lunch at the inevitable Spar market in Cargese.
Throuqh the Calanches again, the other direction. It was cloudy up to Corte. The empty road went through changing forests-evergreen to pine. The was a lot of logging and debris from fallen rock on the road, but good surface, no sand.
Past turn for Vico-rougher road, much more sand, fine gravel.
A brief stop to admire the heavy snow remaining on the roadside at the col.
Descending towards Corte-lots of fine sand on road. I liked the look of the many scenic picnic benches in forest, many overlooking waterfalls at the hairpin turns. However, they were too shaded for the chilly weather, and it was early to stop to stop for lunch.
The road surface improved, and there was a really fun long tight section (1st gear, mainly) w. stone walls along gorge. It was quite narrow, good condition, but there's no room for mistakes...
Mid-afternoon, as were nearing Calacuccia on the D84 towards Corte, I spotted our picnic spot. About 50m past the intersection with the D218, the D84 crosses a small river. Just downstream (east) of the road, there's a stone foot-bridge over the same river. We pulled over and had a wonderful picnic. While Meredith napped, I spent hours taking photos.
The D84 from Calacuccia to Castirla got faster, less tight (though some turns were a lot of fun because our speed was up +10mph, and we were higher gear than on the previous stretch).
We took the scenic D18 from Castirla to Corte-steep and pretty.
Corte: pretty, active, chilly/comfomtable. We happened to be in town at the same time as a student ecology fest-lots of people in costume on street and a big party that night. We walked across a pretty foot bridge (nice bit of engineering) to concerts in circus tents. One group was playing folk+jazzy stuff in the smaller tent--crowded, with a lot of dancing. The larger tent had a group (5 singers, 4 musicians) doing traditional Corsician balads + love songs. Beautiful music, obviously quite stirring, even though we couldn't follow a word!
[an error occurred while processing this directive]