Daniel Convissor's Web Site (is in the midst of reconstruction):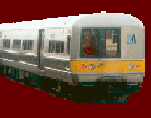 Port Authority of New York and New Jersey

The Port Authority (PA) is a public benefit corporation chartered by both New York and New Jersey. The authority has a role in all transportation modes and general economic development in the New York City metropolitan area. Its unique bistate capabilities makes them the major transport provider between NJ and NY. Their highway bias is overwhelming. For instance, the PA is pushing to twin the Goethals Bridge without giving serious consideration to rail and pricing alternatives. Transit access to the airports refuses to incorporate existing rail lines, preferring a non-standard technology. They improved rail freight to Port Newark/Elizabeth, but only because its necessity for the port to remain viable in the age of intermodalism. In addition, they are working on a study entitled Access to the Region's Core, examining major capital investments to improve access to Midtown Manhattan and perhaps through rail freight. The Governor's of both states each appoint half the members of the Board of Commissioners. Either Governor can wield a veto over the PA's actions.
---
Pages on my site touching on PA matters:
Executive Director:
Robert Boyle
Executive Director
Port Authority of New York and New Jersey
1 WTC 67W
New York NY 10048
212-435-7271
Office of the Board Secretary:
212-435-7312
Port Authority General Phone Number:
212-435-7000

 
---
Comments / Questions / Complaints / ...
---
Are you having a hard time printing this page? Read the Printing FAQ.

This page is hosted by Daniel Convissor
Home Page: http://www.panix.com/~danielc/

This URL: http://www.panix.com/~danielc/region/paboard.htm
Last updated: 2 May 1999