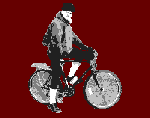 Daniel Convissor's Website
Bicycles on Amtrak
Amtrak's own web site does not fully explain bike access policies. So, someone's got to...
Standard Service:
Boxed bicycles are accepted on all Amtrak trains which have checked baggage service.

Caution: even if a train has baggage service, not all stations they stop at have baggage service.

There is a $5 handling charge.

Bicycle related carriage fees are waived for members of the League of American Bicyclists who book their trips through Professional Travel Corporation.

You can obtain a box from Amtrak for $7.
Handlebars need to be turned sideways. Pedals must be removed (tip: tape the pedals to the frame so they don't fall out of the box). Tandems can be accommodated by telescoping two boxes together.
Roll-on Service:
Even better, the trains listed below put unboxed bikes into special racks.
# The information system used by Amtrak's phone agents does not list the improved bike access for these trains.
In addition, phone agents don't have a central listing of all trains with the bike rack service.
Expansion of Roll-on Service Indefinitely Postponed:
Amtrak was about to implement roll-on access to the following trains. The racks for the program were purchased. At the last minute, Amtrak decided to use this space for smokers instead.

It's important to write to Amtrak to register your opinion on this matter:
Mr. Tom Downs
President and CEO
National Railroad Passenger Corporation
60 Massachusetts Avenue, NE
Washington, DC 20002
---
Other Bike on Amtrak Pages:

Amtrak's Home Page:
---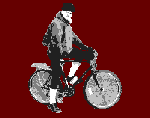 Up to the Bicycle Page or to it's Planning Section.

 
---
This page is hosted by Daniel Convissor
Home Page: http://www.panix.com/~danielc/
Email: danielc@panix.com
This URL: http://www.panix.com/~danielc/usa/amtkbike.htm
Last updated: 4 April 1999