Press Release
Background information on our prank

Feedback
Post comments on our bulletin board.

Download the ticket
Requires Acrobat Reader (available here free)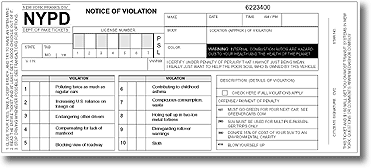 OTHER ITEMS OF INTEREST
Note: Stay Free! is solely responsible for this prank.
Although we endorse all of the groups below, they don't necessarily
endorse us. (Then again, they don't necessarily not endorse us, either!)
Friends of the Earth
One of the best SUV sites.
Bad Sports. Or: how we learned to stop worrying and love the SUV
Article from Harper's Magazine, April 2001
FuelEconomy.gov
How much does your vehicle pollute? Calculate its emissions.
Sierra Club site on global warming
Bay Area Action
San Francisco-based group that created a similar
SUV ticket. (We modeled ours after theirs.)
Transportation Alternatives
NYC nonprofit working for bicycling, walking,
public transit, and fewer cars.
GreenerCars.com
Pledge to buy a green car next time and show Detroit
there is a market for earth-friendly cars.
Commuterlink
The best alternative to driving alone is carpooling. Contact
Communterlink at 718.886.1343 for ride-sharing assistance.