Amereel (10 inches)


| | |
| --- | --- |
| HOOK | Mustad 3407 #6/0 |
| THREAD | White |
| TAIL | White bucktail under 1 white neck hackle (curve up) under 3 white saddles (curve side down) under 1 amber saddle under 2 golden olive saddles under 3 black saddles |
| BODY | Pearl mylar tubing |
| COLLAR | Long white bucktail |
| WING | Golden olive bucktail under light olive bucktail under black goat hair |
| EYES | Jungle cock |
(All feathers tied in flat)



Eel Punt, 11" (Ken Abrames)
| | |
| --- | --- |
| HOOK | Eagle Claw 253 #1/0-3/0, colored black |
| THREAD | black |
| TAIL | Blue or black bucktail under a black neck hackle (curve up) under 3 black saddles (curve down) |
| BODY | Long dark (black or dark brown) webby hackle, palmered |
(All feathers tied in flat)

Whiskey & Soda (my flatwing conversion of Austin Spencer's steelhead pattern) 6"
| | |
| --- | --- |
| HOOK | Eagle Claw 253 #1/0-3/0 |
| THREAD | Black |
| TAIL | Black bucktail under 1 black neck hackle (curve up) under 1 black saddle (curve down) under 1 white saddle (curve down) |
| BODY | 1 black webby hackle and 1 white webby hackle, palmered |
(All feathers tied in flat)
Notes
Time of Appearance: Juveniles enter the estuary in March, adults are always present.
Life History: During March the elvers or "glass" eels, a 2½-inch near transparent ribbon shaped juvenile, enter the estuaries (living in fresh or brackish water)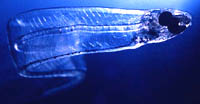 where they will grow to adults and remain for 5 to 10 years, then leave to spawn in the Sarragaso Sea. The adult male grows to two feet and the adult female grows to five feet. The coloration is very dark olive to brown top and pearl white under side. They are nocturnal feeders and can be found all across the bay at night. In particular, around rocks mouths of creeks and rivers and under banks.