A Classic 1966 Mustang
Below is a picture of the 1966 Ford Mustang we owned from July 2000 until it was sold in September 2001. &nbsp &nbsp

For those who may not be familiar with the Mustang, the car was introduced at the New York World's Fair in April 1964. In the first week, over 20,000 cars were sold. In the 1965 model year, sales of the Mustang exceeded 500,000 units making it one of the most popular cars ever sold in the US.
The original owner of the Mustang pictured here bought the car in February 1966 which was the middle of the 1966 model year. The car was built at the Ford automobile plant in Dearborn, Michigan and shipped to a dealer in Phoenix Arizona. The car is Silver Frost, has the original motor, interior, and other major parts. The first owner kept it for about about 25 years then sold it to a person who lived in Sun City Arizona, a retirement community. The Arizona State records show that in 8 years, the second owner drove the car only 4,000 miles (500 miles a year!) Until I brought it to New York in July 2000, the car was always in dry, rust free Arizona.
The Arizona motor vehicle records verify that the astounding 33,000 miles (70,000 kms) shown on the odometer is accurate! Amazing for a car that's 35 years old.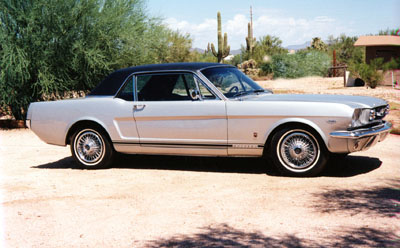 For the admirers of auto engines, this Mustang has a 289 cubic inch (4.7 liter), 235 horsepower, V8 engine with a 4 barrel carburator. It has cruis-o-matic (automatic) transmission, push-button AM radio (there were very few FM stations in 1966), deluxe interior, power steering, tinted windlws all around, air conditioning.
Only a few US car marques have sold over 1 million units. Three of them were Fords: The Model A Ford, The Ford Fairlane, and The Ford Mustang. I believe the vintage Mustang holds the record for selling over 1 million cars in a two year period.
Interesting to note that while Ford Motor chose the name "Mustang" to reflect the sprited image of the P-51, a US World War 2 fighter plane nicknamed the Mustang, the public immediately associated the car with the untamed wild horse of the American West and so Ford adopted the image of a galloping horse as as the symbol for the car.
I hope you enjoyed this little excursion into Mustang territory. If you'd like to see another Classic Mustang, please take a look at the other Mustang which I owned for several years.Go to the 1966 Silver Blue Mustang
---
Send e-mail to rmadison@panix.com

&nbsp&nbsp

---
&copy Richard Madison 2001