17 Mayo 2001: Cuicuilco
Ab allowed me to sleep late, as is our habit when I visit. But by noon we are both up and have had some sort of breakfast, and have maybe discussed something from The Economist or the Financial Times issues littering his coffee table. Ab and I both enjoy the irreverence of British journalists; Americans tend to take themselves and their subject matter so so seriously. Humor and objectivity clash as far as Americans are concerned.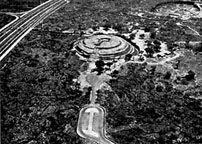 After noon, Flor arrived, and Ab went to his office soon thereafter. Flor and I wallked over the the Periferico (a large roadway nearby, a major artery of Mexico City), and we took a rather long ride on the minibus to Cuicuilco. Flor is a native of Mexico City and we spoke Spanish the entire time we were together. I took seven years of Spanish in high school and in college (seven years total), and I try to practice now and then, but this was the first time I spent this much time speaking to someone in Spanish for hours. Luckily, Flor spoke somewhat slowly (based on talking to Ab, I suspect), and that helped. I can speak Spanish and read it, but not fluently. Hearing it spoken quickly and comprehending it all is a challenge, though.
We got off the microbus at a highway cloverleaf. There is a certain sense of "safety last" here in Mexico. If you have to go somewhere, you cross the on-ramp if necessary. A street sign reads "no golpear." Flor explains to me that some people do beat up on public signposts when they get drunk or overstimulated, etc.
Cuicuilco is a pre-Columbian ruin, from before even Teoticuhuan's piramides were built. The b/w photo here is an aerial photo from 1963. The color photo is a more recent one I grabbed without permission from someone's homepage, since I took no photos there.
Flor and I took a short bus ride to the campus of UNAM--the Universidad Nacional Autonoma de Mexico. I think that's what the acronym stands for, anyway. It is a huge campus. We covered less than a quarter of it on foot. It features big, monumental structures from the 1960s and '70s; it also has the giant feeling of many other buildings in Mexico City, which is so reminiscent of the ancient cultures of Mexico. One building is named for the Aztec emperor Nezahualcoyotl. Flor explained that he was a poet, which is why one of the arts buildings is named for him. It was a very hot day, so we sat in the shade of a pine tree near a large statue wall called El Serpiente. It's a shame there was graffitti all over these areas. Flor also explained to me that there was a big uprising in 1968, in which many students and faculty at the University were killed.
We eventually met up with Abdul later in the day at his office and went to an Indian restaurant for dinner on the other side of Polanco. Before we got out of the cab, there was a huge whistling noise, almost deafening. It came from the metal pushcart of the man who sells camotes (sweetpotatoes). They are sold from a little rolling gas oven that almost looks like an old-style locomotive in miniature, but makes all the noise of a full-size train engine. It's amazing how much noise comes from such a small appliance.
We took an awful lot of cabs this evening. To make sure you get a reliable cab in the DF, it's best to go to a sitio--a cab stand where there is a regular, somewhat more accountable set of drivers. Abdul has been using one in particular near the Polanco metro stop, so they all know him now. At many of these, you will see small shrines set up to Our Lady of Guadalupe. Apparently the Virgin Mary appeared in Mexico in the early 16th Century; word had it that the soon-to-be-converted faithful were plentiful and the beaches pristine.
Next Entry... ¡Viva las Activistas!
Previous Entry... La Vuelta a Mexico
---
[ Contact Me | Home | Matthew Shepard Memorial | Diaries | Archives | Links | Web Index ]
Copyright (c) 1998-2001, Seth J. Bookey, New York, NY 10021, sethbook@panix.com