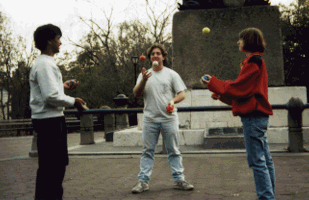 Looks like Neil larry and I know what we are doing, no?
I've been juggling for a lot longer then you'd think by watching me. (I've been juggling since my Sr. year of HS)

Larry and I just got back from a IJA festival. We are now the proud owners of another brand of clubs (The dube's were too heavy and the Todd Smith's were too hard so far the Henry's are just right.) Hopefully we will start going to the MIT club more regularly then once a year.