Rescued Kittens
New pictures uploaded Dec. 31
Sorta new pictures uploaded Dec. 8th


We are pleased to introduce 5 beautiful kittens to the world. We believe they were born sometime during the first week of Novemeber. They were brought into the ER that Larry works in Saturday, November 21st and we have had them ever since.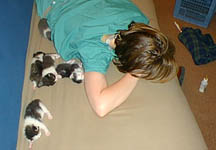 Taking care of these little ones has been such a wonderful experience. There is also a lot of work to do and it can be very tiring. These kittens should still be with their mother, but since they are not Larry and I have to take over many momma cat responsibilities. We have to feed them. We are still bottle feeding them. They get special kitten replacement formula.
We have to keep them clean. We use wet washclothes to wipe them down (just like momma would do with her tongue.) We also give them baths every other day or so. Nothing makes a kitten smell better then a nice shampoo with Johnson and Johnson's baby shampoo. This help us clean up all the formula that we wind up spilling on them.

The toughest and least fun job that we have to take over for momma is making sure the little ones go tohe bathroom. At this age they need their mother to lick their bottoms to stimulate all bathroom activitities. We use a washcloth and we get the same results. We are very proud to say we have 5 peeing and pooping kittens (we had a holdout for awhile, but we finally got Spot to go!)
The kittens get weighed every day on a little calorie counter scale. It's hard to believe that Zach (an 8 year old tiger tabby) and these guys are the same species.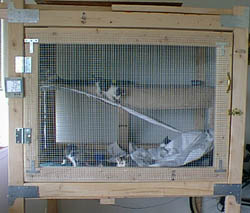 The kittens are in their new home!
They are now living in a 3'x4'x3' house. The house is buit on stilts. This is good because we do not have to bend down to the ground to take them out and in case of flooding, the kittens will still be on dry land. Not sure the last time the 12th floor flooded in Philadelphia, but it is good to be prepared. Having the walls constructed from chicken wire, sure looks like fun!

Please meet our little brood
---
teej@panix.com
The Teej Page