Tam Ra Ahan Thai (Thai Recipes) ตำราอาหารไทย
© Copyright 1995-2020, Clay Irving <clay@panix.com>, Manhattan Beach, CA USA
Tom Kha Kai (Chicken And Coconut Milk Soup) ต้มข่าไก่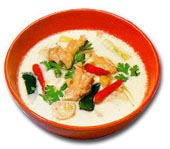 2 cups coconut milk
6 thin slices young galangal (kha on)
2 stalks lemon grass (ta-khrai), lower portion, cut into 1-in (2.5-cm) lengths and crushed
5 fresh kaffir lime leaves (bai ma-krut), torn in half
8 ounce boned chicken breast, sliced
5 tablespoons nam pla
2 tablespoons sugar
½ cup lime juice
1 teaspoon black chilli paste (nam phrik pao)
¼ cup cilanto / coriander leaves (bai phak chi), torn
5 green Thai chilli peppers (phrik khi nu), crushed

Combine half the coconut milk with the galangal, lemon grass, and lime leaves in a large saucepan and heat to boiling. Add the chicken, fish sauce, and sugar. Simmer for about 4 minutes, or until the chicken is cooked, and then add the remaining coconut milk. Heat just to boiling. Place the lime juice and chili paste in a serving bowl and pour the soup over them. Garnish with cilantro leaves and crushed chilli peppers.

---
Search for Recipes, Search using Google, or Return to Cookbook Index