Daniel Convissor's Web Site (is in the midst of reconstruction):
Less Highways Results in Less Driving
Cutting back roadway capacity reduces the number of people driving. This point was, once again, proven in New York City during 1973. The Henry Hudson Parkway between 72 St and 79 St was closed for repairs. During that reconstruction, though unrelated to it, a portion of the West Side Highway collapsed, causing that road to be closed below 42 St.

These two highways form a continuous link along Manhattan's west side. Only the 72 St to 42 St portion of these highways remained open. This segment lost 59,000 trips, 53% of its traffic load. Less than 4,000 of these trips reappeared on other roads crossing 60 St.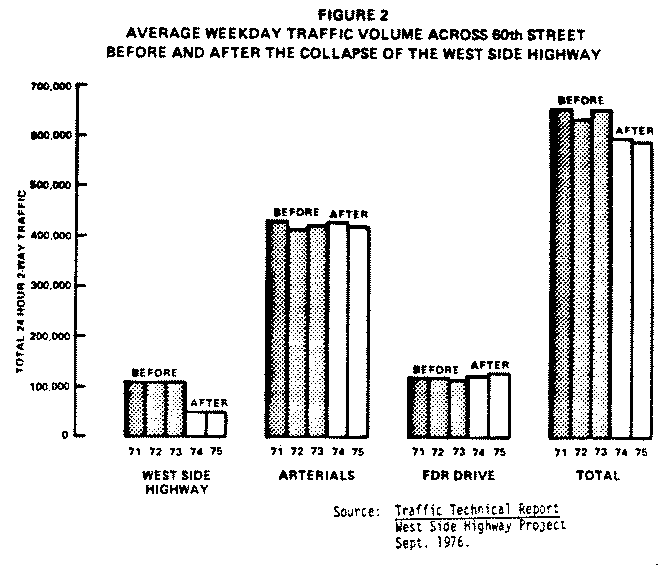 ---
(Table interpretation of this graph.)
---
This information is from Garbage In - Garbage Out: NYC Dept. of Transportation's Flawed Analysis of Closing Central Park Drives to Traffic written by George Haikalis in August 1992 for Transportation Alternatives
---
Up to the Auto-Free Central Park Page
---
Are you having a hard time printing this page? Read the Printing FAQ.

This page is hosted by Daniel Convissor
Home Page: http://www.panix.com/~danielc/
Email: danielc@panix.com

This URL: http://www.panix.com/~danielc/nyc/ws-hwy.htm
Last updated: 4 April 1999