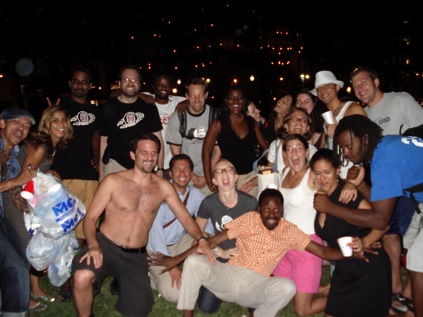 Every summer, for the past 17, Bryant Park in New York City has been hosting the
HBO Bryant Park Summer Film Festival
. Great movies in a drive in atmosphere. The movies start at sunset (close to 9pm) and the crowds gather many hours earlier. Picnicing & fun to be had by all.
I am part of a group of friends that has been doing this together, pretty much since it started. The individuals in the group have changed over the years, but the sheets we sit on have been the same. :-)
UPDATE 8/17/2009
It's been a great, albeit wet, summer. It rained almost every weekend making the park a muddy mess, but we sat in the chairs on the side and had a great time as always. Tonight is the last movie of the summer,
Close Encounters of the Third Kind
, and it has been beautiful and dry for the past week. We will be back on the grass in our usual place. Come join us...