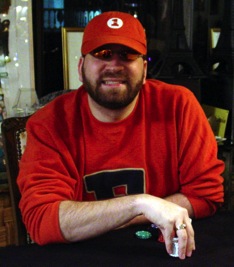 The rest of the country has gone crazy for poker, so why not me too? I watch it on TV, listen to Podcasts about it, read the books and magazines, and of course, I play too. I play live here in New York, and I play online. For the longest time I was limited to
Pokerroom.com
and their web interface combined with the phenomenal tracking software
Mac Poker Pro
, but finally
Full Tilt Poker
came out with a
Macintosh client
, so I play there too. And now that I can run Windows on my Macintosh using
Parallels Desktop
, I am playing on some of the bigger PC only sites. In fact, I won my seat at the
2006 World Series of Poker
playing on
Pokerstars.com
. I also won a seat to the 2009 Main Event playing at a
Poker4Life
charity tournament for the
Buoniconti Fund
.
In the Poker Section of my
Blog
, I have posted a tip for playing multiple tables online at once.
By the way, if you ever thought that online poker is rigged, you are right.
Here is the absolute proof...
I am currently doing some one on one coaching with Jonathan Little.
Check out his free video.
(Truth in advertising, this is an affiliate link, so if you end up buying his videos, I do get a cut.)

Poker On TV
Celebrity Poker Showdown

The World Poker Tour

The World Series of Poker

Poker Podcasts I currently Listen to
Ante Up
(
iTunes Link
)
Rounders - The Poker Show
(
iTunes Link
)
Cash Plays at Pokerroad.com
(
iTunes Link
)

Pokerroad Radio at Pokerroad.com
(
iTunes Link
)

The Bear Blog at Pokerroad Radio
(
iTunes Link
)
Tips From The Bear at Pokerroad.com
(
iTunes Link
)
The Poker Beat at Pokerroad.com
(
iTunes Link
)
ESPN: The Poker Edge
(
iTunes Link
)
Deuce Plays with Bart Hanson
(
iTunes Link
)