South Bay Simulations, Inc.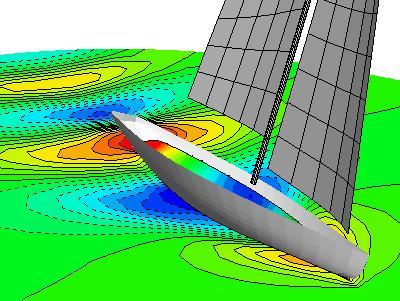 SPLASH
the world's leading free-surface panel code:
flow simulation and performance prediction
for yachts and ships
---
New Versions of SPLASH and ACCPAN
Released October 21, 2009
Demo Versions Now Available

---
Unsteady SPLASH Simulation:
an America's Cup Yacht Moving through Waves
(Flash Animation via Tecplot Software)
see the Tecplot CONTOURS news article

---
SPLASH and the 2003 America's Cup
ALINGHI WINS!
Alinghi sweeps Team New Zealand 5-0,
bringing the America's Cup to land-locked Switzerland.

The Swiss won the right to challenge for the America's Cup after eliminating eight other challengers, including Oracle 5-1 in the the Louis Vuitton Cup.

Swiss designers used SPLASH to assist with design of hulls and appendages.

---
see Amtec Engineering, Inc's
Case Studies or November 2000 Contours Plot of the Month
featuring a Tecplot-animated SPLASH flow visualization
for AmericaOne's yacht USA-61
---
Download an Adobe Acrobat (PDF) copy of AIAA Paper No. 2000-4339
"CFD Design Studies for America's Cup 2000"
by Bruce Rosen, Joe Laiosa and Dr. Warren Davis
http://www.panix.com/~brosen/AIAA-2000-4339.pdf
---
---
© 2009 South Bay Simulations, Inc.