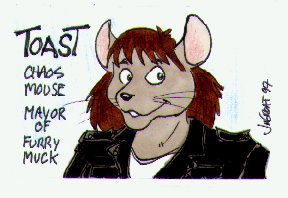 ---
[Toast's Homepage] [Toast's Furry Art] [Short Short Story Index] [The Mayor of FurryMUCK]
From October of 1997 to August 1998 I was the Mayor of FurryMUCK
The sole power and responsibility of the Mayor is to change the name of the currency. For more information visit FurryMUCK Elections, a part of Jahangiri's History of FurryMUCK site.
What makes a good Mayor?
In my opinion, a good Mayor has these qualities:
Dedication:
A good mayor changes the currency frequently, no less than every other day, RL permitting.
Creativity:
Keeping the currency different and fun is an essential part of the job.
A Sense of Humor:
Because everybody could use a laugh now and then.
An open ear:
Some of my favorite currencies have been suggested by someone else. Of course with thousands of furs online, and hundreds of suggestions, I couldn't get to all of them during my term.
Willingness to Role-Play:
The possibilities for fun are endless. Corruption, scandal, and bribery are all good places to start.
What makes a good currency?
Weird:
Anything strange and obscure is fun. Great for starting coversations.
"What the heck is a 'vermicious knid' and why do I have 917 of them?"
Suggestive:
Yiffing is still one of the more popular activities on the Muck. While the wizzes still can override the currency if it gets too lewd, you can still get away with a lot without violating a PG-13 rating.
crowbars
cans of yiffed cream
sheep
Interactive:
Any currency that gives amusing results when combined with Muck messages and programs.
You found a reason to live.
This shout cost 64 lives.
You don't have enough balls for a shout this long.
Food:
What fur doesn't like a tasty treat now and then?
truffles
Altoids
Subtly Offensive:
On the surface, they're perfectly harmless. But if you think about them too much...
Easter Eggs [In October?]
Coney Island whitefish
members
Topical:
Annoying commercials and current events can provide endless ideas.
mysterious DLLs (From the Windows 98 launch)
party in a can/cans of Jooky
Tributes:
dog tags (Memorial Day)
moondust covered golfball (Astronaut Alan Shepard)
lamb chops (Furry puppeteer Shari Lewis)
Polymorphic:
There are actually 4 different currency types (singular/plural, and capitalized/non-caps). With 4 different strings to set you can have multiple currencies at the same time.
You found a scared and lonely braincell. You have 10 scared and dying braincells.
You found a slider. You have 1739 White Castle hamburgers.
Hint: Avoid currencies that begin with a vowel.
The muck doesn't currently check the currency and provide the proper article, so you get:
You found a anvil.
While most people won't even notice, it can detract from an otherwise perfect currency.
Our New Mayor!
I wish to congratulate Inari, the new Mayor of FurryMUCK! I hope her term is as fun as mine was!
Toast's Currency List:
---
[Toast's Homepage] [Toast's Furry Art] [Short Short Story Index] [The Mayor of FurryMUCK]
Last update was on Thursday, 19-Aug-1999 12:47:21 EDT.
8274 hits since ! Thanks for visiting!
Comments? jpeterso@panix.com

Space for this page provided by PPSI Educational Software