The Hitchhiker's Guide to Ancient Cookery
formerly
The Caer Galen Cooks' Corner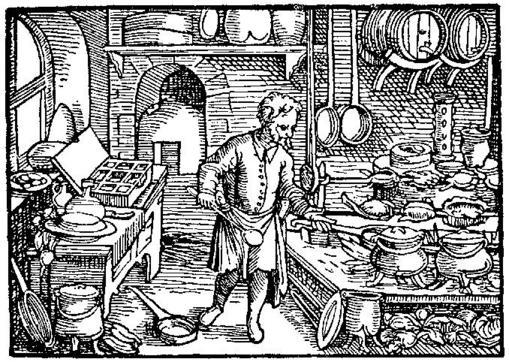 Title page woodcut from "Koch unnd Kellermeisterey, von allen Speisen und Getrencken ..." first printed around 1550

Greetings to all and sundry!

This is a series of articles about medieval cookery, and sometimes the even more specific process of preparing a meal for forty or one-hundred forty people while trying to maintain some semblance of historical accuracy.

Although the articles were written with an SCA/re-enactor audience in mind, they are, I hope, of use to all who are interested in Medieval/Renaissance cooking from primary and secondary sources.

If you are coming here from links related to Illadore/Monica Gaudio/Cooks Source, you might want to try this link.

Lately, much of my food writing is now on a different site, Aspiring Luddite, including, on the medieval side of things:
Sausage using some medieval sources
I welcome all comments at nexus@panix.com. I hope you enjoy the following.

Alexandre Lerot d'Avigné / Jeff Berry
---
The Caer Galen Cooks' Corner
All articles in the section originally produced cica 1992-1994
The Hitchhiker's Guide to Ancient Cookery
Bibliograpical Index to sources and recipes.

---
Links to other Useful Cooking/Food Sites
Gregory Blount of Isenfir's excellent Medieval/Renaissance Food Homepage The Cooking Page of the Crown Province of Østgarðr, in which Province I now reside. Gode Cookery

---
The background to these articles
While residing in the Outlands in the Shire of Caer Galen, I oversaw the production of a number of feasts, including Twelfth Night, in January of 1995 in the neighboring Barony of Caerthe.

As a prelude to that feast, I wrote a series of articles about the process of developing a feast menu and so forth. The articles were published in the local newsletter there, the Dorinda, and many were reprinted in Serve it Forth. (SiF is no longer being published, I'm afraid.)

I enjoyed the process so much, that I wrote a few articles here and there, and when I began to do feasts again after moving cross-country, I decided to continue.

The articles are reproduced almost exactly as originally published. The articles are what I call "warts and all", my theory being that for some subjects, such as this one, it is useful not only to see what the results are but also the process taken to get to the results, with all the sidetracks and mistakes included.

For the articles written for the Caerthan Twelfth Night, the name of the series was "The Caer Galen Cooks' Corner". After that article, I changed the name to something less geographically explicit.
---
---
Jeff Berry/ Alexandre Lerot d'Avigné / nexus@panix.com / Last Update 8 November 2010