I'm still learning as an artist, but I'm putting stuff here for you to see, and most especially comment on. Tips and constructive criticism are welcome, though if you have an encouraging word to say, I'd love to hear that too. 8:)

Contact me and let me know what you think.

Other images are available:



---

Sully, MelSkunk, Gene Catlow, and Amara! I finally got to meet them at AAC!

---
Airhead the hamster! Thanks for letting me borrow your scanner! *HUGS!*

---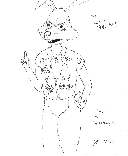 A pic I did at AAC for Jackrabbit! Toast as a ChaosBunny! Thank you for scanning this, Jack! 8=)

---
Lactria, the Mice Cream Goddess, in her Discordian aspect of Eris. She's holding the legendary golden apple, and a snowglobe.

---

Sully's pal Minkle, and Toast! Minkle (c) S Arsenault.

---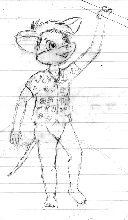 Quick sketch of Toast, holding something.
---
If you are on FurryMUCK, just leave me page #mail. (I'm Toast) Of course you can always just email me at:
jpeterso@panix.com
---
Last update was on Saturday, 20-Sep-1997 13:45:24 EDT.
Thanks for visiting!
Comments? jpeterso@panix.com

Space for this page provided by PPSI Educational Software