I'm still learning as an artist, but I'm putting stuff here for you to see, and most especially comment on. Tips and constructive criticism are welcome, though if you have an encouraging word to say, I'd love to hear that too. 8:)
Contact me and let me know what you think.
Other images are available:
Click on an image to download a full size version.

---

In his earlier days, Toast was a mousethief. Here he is, prowling around with his partner.

---
Royce and Austin Dern, grooving to something or another.

---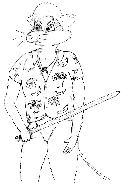 Toast, the chaosmouse! One of my first attempts.

---
A vixen bioengineer.

---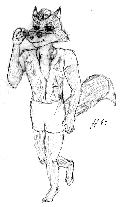 Wildcard! Too cool!

---
Last update was on Saturday, 20-Sep-1997 13:45:14 EDT.
Thanks for visiting!
Comments? jpeterso@panix.com

Space for this page provided by PPSI Educational Software