I'm still learning as an artist, but I'm putting stuff here for you to see, and most especially comment on. Tips and constructive criticism are welcome, though if you have an encouraging word to say, I'd love to hear that too. 8:)
Contact me and let me know what you think.
Other images are available:
Click on an image to download a full size version.

---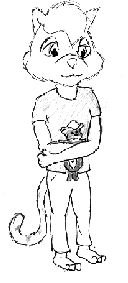 Bubbycat, hugging a HoneyBadger plushie. (Now where can I get one of those?)

---
By request: A female racoon doctor.

---
Another practice vixen! But wait! This one is wearing clothes! And hopefully she's a little more interesting than my usual.

---
Mililani! @Whee!

---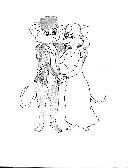 Samwise and Toast have been married over a year now! Here's a picture I made for our anniversary!

---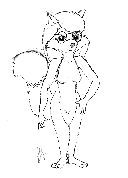 Another practice vixen. Probably the last one. Now I have to work on drawing clothes. 8;)

---
Monday Morning. This cat is not a morning person.

---

Another less than cheerful catmorph.

---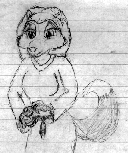 A vixen mage. I have got to find an easy way of fixing these scans.

---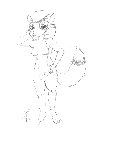 Another of those vixens I draw for practice. I like how this one turned out. [In The Fur, in case anyone is easily offended. This is about the closest I get to real spooge.]

---
---
Last update was on Saturday, 20-Sep-1997 21:42:05 EDT.
Thanks for visiting!
Comments? jpeterso@panix.com

Space for this page provided by PPSI Educational Software